A4 Takeaway Menus (Flat)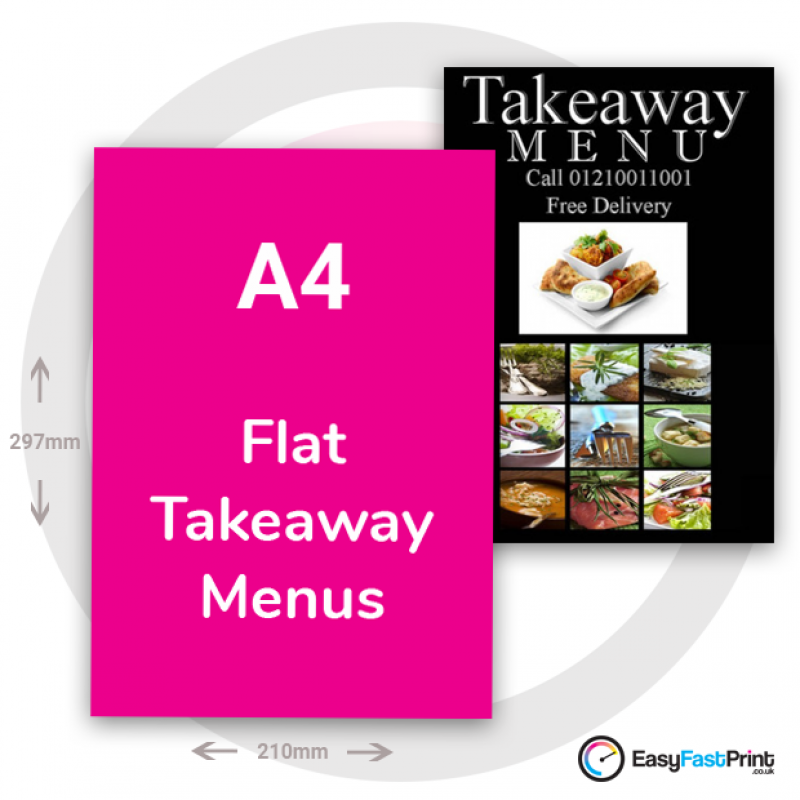 A4 Takeaway Menus (Flat) Printing
Our flat A4 takeaway menus are great for handouts and promotional campaigns.
We have a selection of paper finishes that give you the flexibility to design your menu to ensure it is the one that is pulled out of the drawer when it comes to takeaway night!
Ideal for
Takeaway menus
Takeaway promotions
If you have any queries on the folding options please feel free to get in touch for some advice.
(This product is usually VAT zero rated)
Extra reasons to print your menus with EasyFastPrint:
Free Artwork Check
Free Delivery
1-hour notification time slot (no waiting around!)
Money Back Guarantee
Secure World Pay SSL Transactions
Need any advice?
We're always open to requests and should you require your prints done quickly then feel free to drop us a line. We'll always do our best to meet your printing deadline.
Call us on 0333 577 2282
More restaurant menus to explore:
> Frequently Asked Questions
I'm unsure what paper to use for my menus?
We would recommend a 350gsm silk, as it's a sturdy board looks great when laminated and folded, it'll also last longer than a lighter thinner paper.
What's the best lamination for my menus?
We would highly recommend either Matt or Gloss lamination, these laminates offer some protection against all the normal wear and tear of a restaurant environment, they'll also extend the life of your menus, but won't make them waterproof.
I'm unsure how to set my menu for folding?
Put simply if it folds once then you will need four pages, folds twice then six pages will be needed.
If you're not sure how set up artwork just upload the pages as single files (Number them 1 to 4 or 1 to 6 and we'll do the rest for you) we'll send you a proof of what the menu will look like when put together.
> Artwork FAQs
View our detailed artwork guide
How do I upload my artwork?
Once you have selected add to cart, simply click on the shopping cart at the top right of the website.
Then click on the red "upload artwork and checkout button". Then just scroll down the page and you'll see a big box which says drag files and drop here.
I've got my artwork, but I'm not sure how to add bleeds can you do this for me?
Yes, we can, we understand that artwork for printing can be a little daunting, so yes, we can add bleeds for you.
I've placed my order but my artwork needs to be changed, can I upload new artwork?
Yes you can, to upload new artwork just go into your account, select account history, then click on your order, scroll down the page and you'll see the drag file here upload box.
Please remember to rename your changed file to version 2 or use a different file name from the original file, this will stop any confusion as to which file to use for proofing and printing.
My artwork is on a Word Document; can this be used for printing?
Yes, we can use a Word document, however all we ask is that you save a pdf from your word document and upload that also.
Can you check my artwork and send me a proof?
Yes, we can, by default this option is selected when placing your order.
We will check your artwork to make sure its ok for printing, we'll then email you a proof download link so you can view the pdf proof. If there any problem these will be flagged in the email you receive. We won't print until you have emailed us approving your artwork.
> Delivery FAQs
I'm in a rush, and I need my printing delivered quicker than what it says on the website, can you do this for me?
Yes, we can depending on quantity, usually on small quantities of 500 or under we dispatch next working day.
Sometimes if you have placed an order of 500 or under, before 10am we will dispatch the same day at no extra charge. Just call or email us, usually we can help no matter how big the order.
How will I know when my print is being delivered?
We use DPD carriers for our deliveries, they will text and email you on the day of delivery a 1-hour time slot, so you don't have to wait around all day.
Price (including delivery):
£0.10
Order within the time for delivery on Monday 29th AugustTuesday 30th AugustWednesday 31st August
Need them quicker? Call 0333 577 2282
Artwork must be approved before 5pm on the day of ordering
This product has a minimum quantity of 5